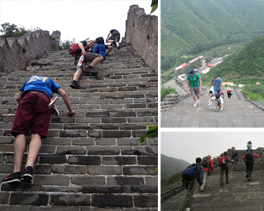 Unforgettable trip
Like a lot of business vistors to Beijing, I decided at the last minute that I had time to do a short tour. A little cautious as I am female travelling alone, I booked Joe less than 24 hours before the tour and hoped that it was a good choice. This turned out to be an excellent decision, Joe was friendly, informative and very comfortable ot be around.
Based on this experience I would really recommend Joe to anyone wanting a relaxing way to experience an amazing place.
Definately I will be utilising Joe's services again.
Visited June 2013



Home
>
City Tour
>
More than two days
>
We can design maximum 4-day custom-made city tours in Beijing. We also can do off-beaten-path city tours in Beijing which will show you a real interesting Beijing without crowds and the off-beaten-path tour will show you the old famous architectures hiding in the city and tell you the interesting stories.

For detail information please contact us.

Please tell us more about the tour you're after (ie number in your party, info about kids, your dietary preference) or write your comments/ questions below.

Booking
Please fill in the form below and we'll reply to you within 24 hours.
Note:
You don't pay for the trip until after the trip has taken place. You could pay cash to your tour guide when you are picked up. No pre-payment or deposit is required at reservation. Your money will be safe. Both RMB and US dollar are acceptable.